"Howdy!"
I've been working on several new western rope wreaths and a some new fall wreaths lately.
or maybe you say "Welcome."
I usually say Howdy or Hey (hey, maybe that's an idea for another wreath!) These two wreaths have a hand painted sign and an assortment of greenery and feathers. Pretty neutral in color and can be displayed year round on your door or wall.
This lasso has deep burgundy red peonies along with assorted greenery and a burlap bow. It can even be hung with the arrangement on the right side or turned to the bottom of the wreath. This wreath could also be used year round in your farmhouse - reds a great color that matches lots of holidays.
This is a pink rope wreath for any fun loving cowgirl! Pink roses, green hydrangeas, burlap and raffia ribbon and greenery are included, along with the Cowgirl sign (can be removed, if unwanted.)
I've also made several fall themed wreaths. I love the fall colors and think they can be very elegant and pretty. This first rope wreath has sunflowers, rusty orange peonies, cattails, red daisies, fern, ivy, eucalyptus. among other greeneries and foliage.
Red sunflowers and yellow sundaisies are the focal point of this lariat rope.
I'm always happy to make fall stuff - maybe its because I love sunflowers and all the different textures and colors. I know it's still July, but our creek is lined with gorgeous cattails, willow trees, solidago, and so many unique grasses and yellow wildflowers and they really inspired me to get to making fall pieces. I took these next two grapevine wreaths out in the pasture, along the creek to take their pictures.
This wreath has a sunflower shaped chalkboard sign that can be personalized. I wrote "Welcome Y'all", but you could customize it with your name, Happy Fall, Harvest Greetings, Happy Birthday, really anything you wish. Would even be great back to school decorations for a classroom!
All about the texture - lotus pods, grapevine balls, pheasant feathers, cattails, fall leaves, sunflowers, mums, daisies and berries. Ahhh, I think I'm ready for fall! How about you?
All wreaths are ready to ship and can be found in my
etsy shop
. Thanks to a friend who found me a large lot of ropes at a recent sale, I'll have ropes to make wreaths for a while! Any certain colors, sign choices, or flowers you would like to see on a wreath?
Oh, and there's also a couple of Christmas ropes available for Christmas in July!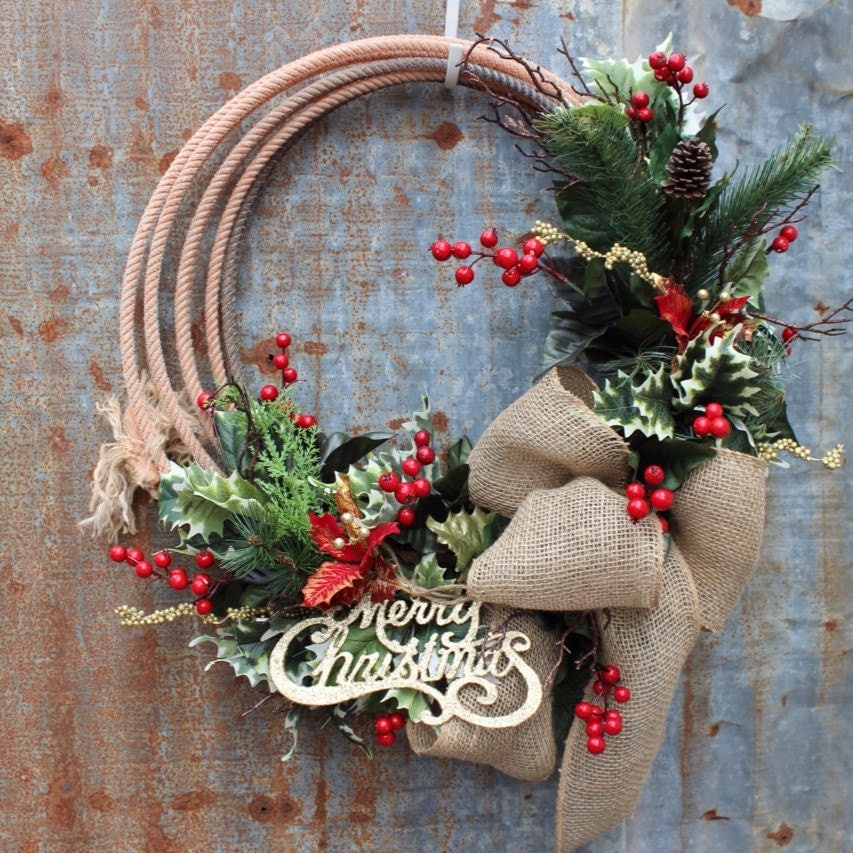 I'll definitely be making more Cowboy Christmas wreaths this year!