This week has been a beautiful, sunny, 70 degrees of perfection and certainly has me ready for spring, yet winter will be returning tomorrow. I've been cleaning in the greenhouse and gathering supplies to start planting. It's also inspired a little early spring cleaning in the house and several new products, including burlap bouquets and some rustic home decor items for my shop.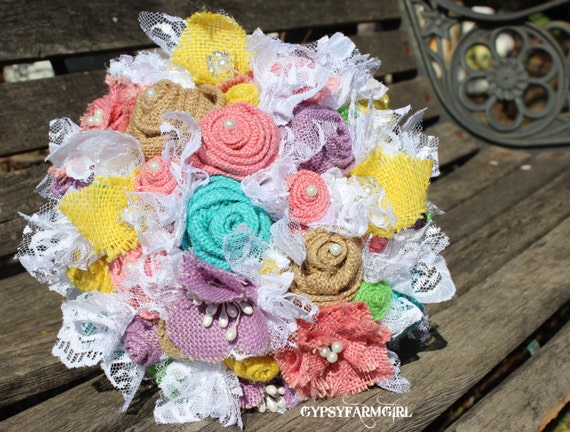 I was dreaming of an abundant, lush garden when I created this bouquet. Various pastel shades of pink, lavender, lime, jade, yellow and tan burlap are used to create the blooms in this bouquet. Roses varied in size from tiny tea roses, to full size blossoms, along with yellow callas, lots of lace and lavender flowers that remind me of hibiscus plants. I can see this in a spring garden wedding.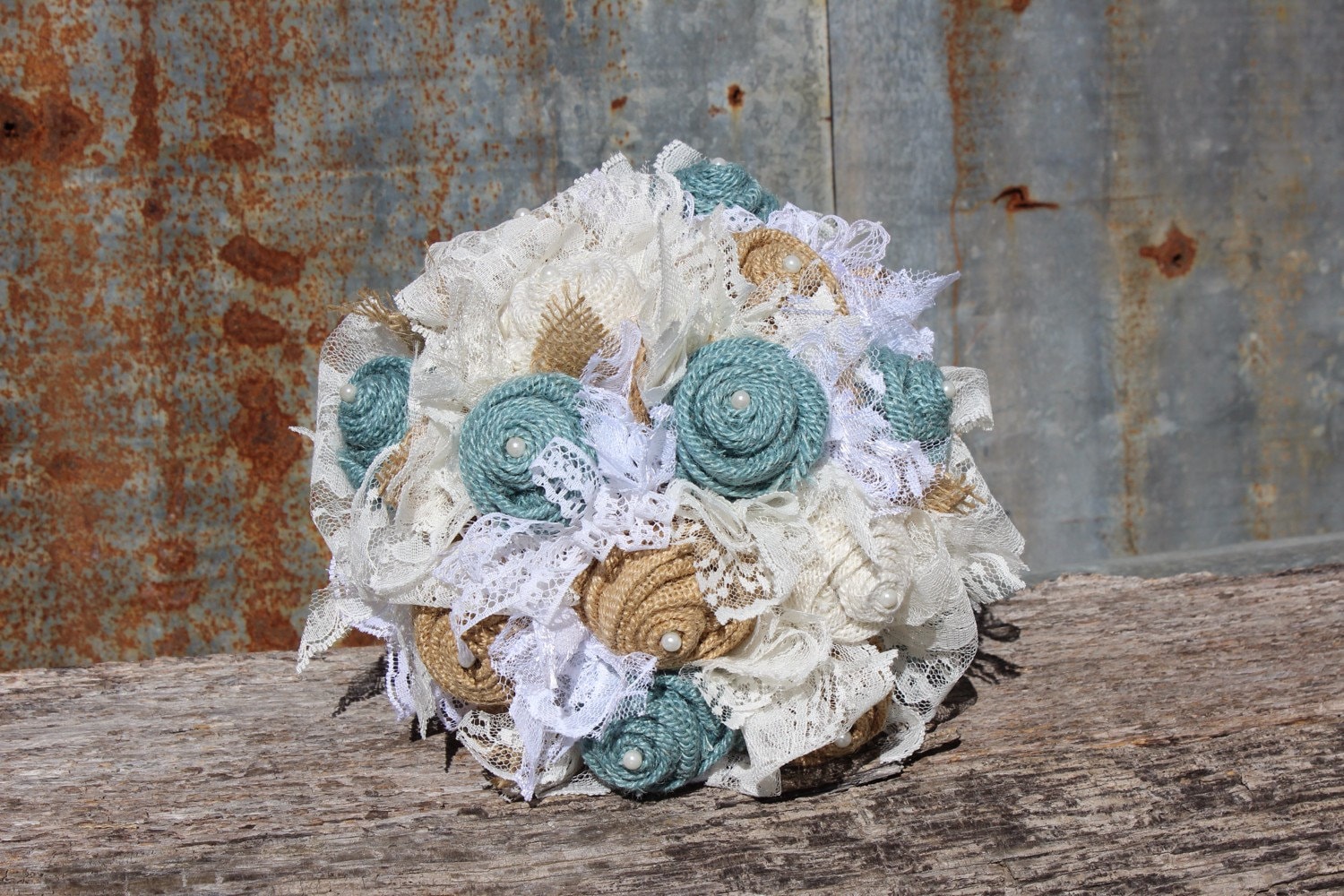 These two items are used featuring a new shade of blue burlap - meet Billow Blue!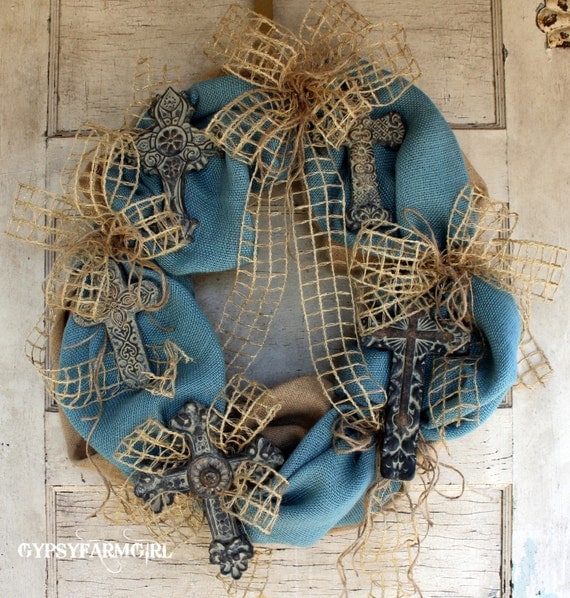 The burlap and cross wreath would be a great Easter and spring wreath to display on your door.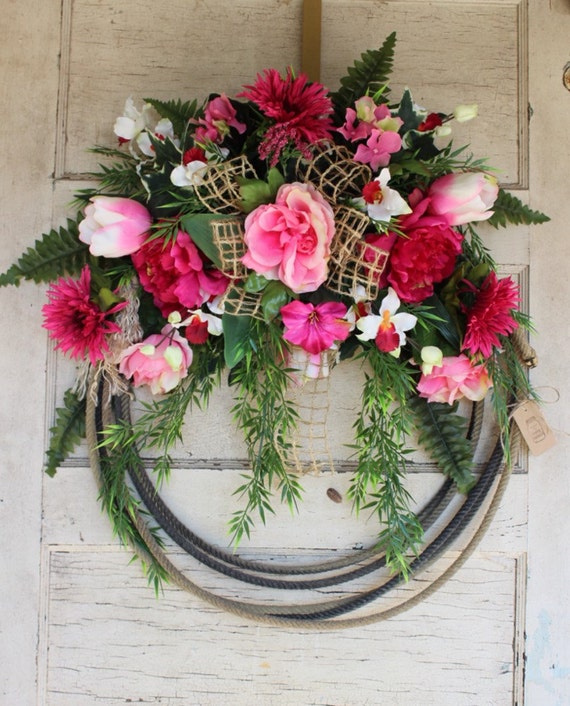 For the Cowgirl - how about a pink lariat rope wreath? Roses, hydrangeas, tulips, dahlias, and orchids in various shades of pink are included along with cascading greenery and a burlap bow.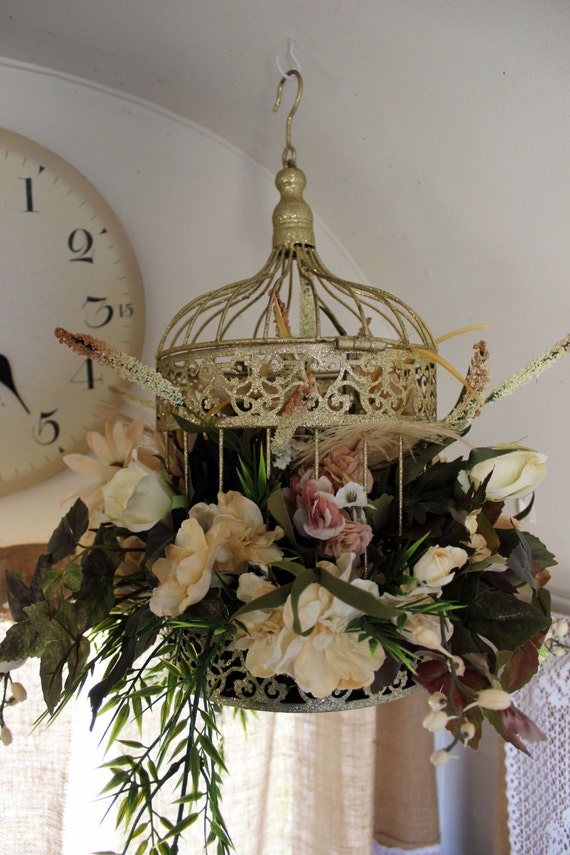 This bird cage is something a little different to my shop and there's not any burlap involved! A gold glittered birdcage holds a bouquet of blush and cream flowers, feathers, and greenery. It can be hung (like shown in my glamper) or set flat on a table as a centerpiece. Very shabby chic and girly!
As mentioned earlier, we've been doing lots of cleaning, decluttering, and redecorating lately. This wall pocket found its way to my bedroom wall after I photographed it. We have a small house, so all storage space in important, especially when work and home are the same place. I'll just say, I'm storing on the wall!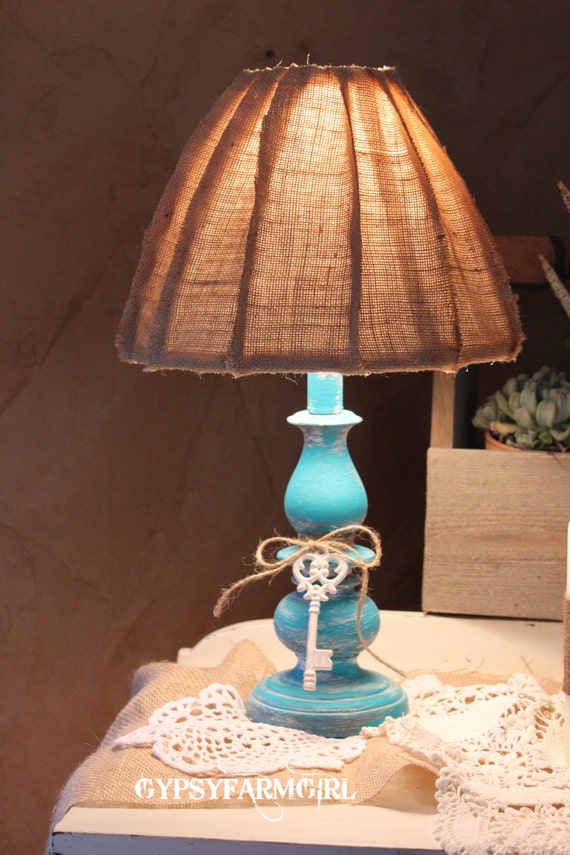 I've had this lamp painted turquoise for a while now, it just needed a neat shade and finishing touches. I stripped up burlap to create ribs and attached to a lamp shade and added the key today. I wouldn't mind if this stayed in my living room for a while though.
All items pictured are ready to ship now and custom orders are always welcome!
Come
shop in my etsy store
and see all the other new products that are available. I've been adding several home decor items recently, so its not just weddings. There's still a couple Christmas wreaths on sale and I'm planning my 4th Anniversary Sale coming up in a few weeks.
Are there any types of products you would like to see me carry / create?
Also, what type of sale would you like to see?